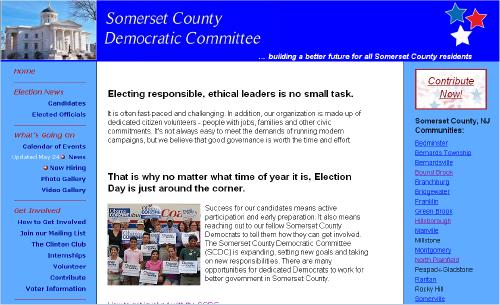 This design was created for the Somerset County Democratic Committee. It was on-line for approximately 1-1/2 years before they moved over to a different, Flash design.
---
The design I created for them incorporated a lot of interesting features. The three-column layout was accomplished using Cascading Style Sheets instead of tables. The header featured a photo of the Somerset County Courthouse, and the shades of blue were chosen to compliment the color of the sky.
The "News" link included the date that the page was last updated. I used PHP code to display a flashing red ball next to the link if the page had been updated within the past 30 days.
Visitors to the website were able to sign up for the group's mailing list, volunteer their time, and make contributions and purchase tickets for SCDC events via ClickandPledge.com. To reduce spam, the mailing forms used Recaptcha which presents a pair of words that visitors must type in.
The website also included:
Voter information
Democratic candidates and elected officials
a Gallery of pictures of past events
videos (with a link to the Committee's YouTube channel)
a Google calendar of upcoming events
Press Releases
links to the Democratic committees of Somerset County towns
The website was set up with a Content Management System so that members of the committee could quickly update events, officers, and other news.