The "East Kingdom Seneschal" is the East Coast Regional Vice-President of the Society for Creative Anachronism. In 2009 I was asked to redesign the website by the incoming officer.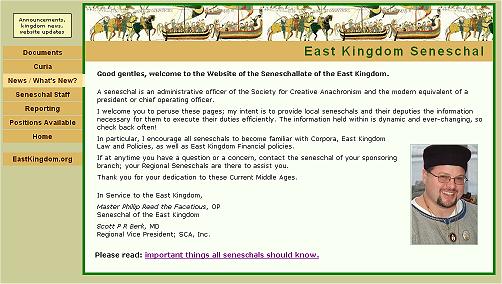 In keeping with the medieval theme of the group, I used an excerpt from the Bayeau Tapestry to illustrate the page. All the colors were chosen to complement the graphic.

The page layout is done completely with CSS, determining the position, color, size, border, etc. of each element. When one of the navigation links is hovered over, the color changes and details about that link appear in a box in the upper left corner of the page. This menu was adapted from a design at Eric A. Meyer's CSS Edge website.

I reorganized all the information on the previous website into the 6 categories listed here. The Documents page provides a centralized listing of all the documents on the website.


New in 2014 - because so many people are now using phones and tablets to view websites, I reworked the site with "responsive" code.

Style sheets detect what size device the visitor is using, and either present the full-size page, or a page with a smaller header image and a single menu button that jumps to the menu at the bottom of the page.

Because the responsive code is handled through style sheets, there does not need to be a separate "mobile" version of every page.